International sewing patterns
International
sewing patterns
No language barrier · 9.500 patterns from 37 countries · incl. translation help
No language barrier · incl. translation help
9.500 patterns from 37 countries
The number of yarns thus determines the name. In the textile industry, jersey is also called weft or woven knitwear.
There are many different types of this knitted fabric. Jersey is often used as a term for the various subgroups of knitted fabrics. The knitting process is always really similar. However, depending on the area of application of the material, the knitting method is individually modified. This results, for example, in variants such as, rib, interlock, ponte, sweat, romanite, jacquard jersey and tubular fabric or cuff.
Another significant feature of jersey is that it is stretchable. Unlike rigid fabrics (like cotton), jersey can naturally stretch in multiple directions. The reason for it is quite simple. The fabric is made up of many loops knitted together. When you stretch the jersey, you pull its loops away from each other so they become longer and wider. That's why cuff fabric is often used for the waistband of pants and sweaters.
Spandex is used to create the same widening effect in firm woven fabrics. Otherwise woven fabrics like poplin would be static and unstretchable.
Depending on the material used to knit the fabric, jersey fabrics are usually wrinkle resistant and easy to care for. Normally you don't have to iron them and lightly smoothing it out with your hands is enough.
Organic jersey is produced using the same process as conventional jersey. However, the difference is not only that for organic jersey only certified organic yarns are being used. Often there are also criteria such as fair working conditions for the workers, sustainable wastewater management, etc. If you want to know more about the organic jersey you're looking at, you can read the respective certifications guidelines. Those explain in which stages of the manufacturing process of organic jersey attention was paid to certain specifications. Examples of comprehensive certification is the GOTS seal or the "kba" (controlled organic cultivation) label. The Ökotex seal is another label you can rely on.
Organic jersey is really soft on the skin and comfortable to wear. The comfort is increased by the high quality organic fibers used in production. Another advantage is that organic jersey usually doesn't fray. It can be a bit challenging that the edges are rolling up when you cut the fabric. It helps when you use a shaping tape along the cut edge of the organic jersey to provide more stability.
Organic jersey can be made from plants or animal fibers. Organic cotton, hemp, linen and wool are the most used fibers. The wool can also be from sheep, goats (mohair) and angora rabbits. The most popular organic jersey is the one made out of cotton.
Furthermore, some information about organic jersey interlock. In this type of fabric, the two rows of needles are tied together with the result that it is quite durable. Jersey Interlock is strong but has a flowing drape. Due to its surface structure, the fabric looks practically the same on both sides. This distinguishes it, for example, from doubleface.
Organic knitted fabrics for children
For children's clothing organic jersey is excellent. There are many colorful organic jersey fabrics and a wide variety of different print jersey in rich colors. Striped knitted fabrics, often called striped jersey, can also be found among the organic jersey fabrics for children.
Another knitted fabric, which can be used well in children's clothing, is double woven organic jersey. This fabric is called 'doubleface'. It has two different fabric sides similar to jacquard knitted fabric. For example, one can have dots on the right side and stripes on the left. This fabric is great for hats, but also for baby sleeping bags.
Organic jersey is a good choice for children because it grows with them for a while and is really gentle on the skin.
Other applications and sewing tips
Organic jersey is mainly used for outerwear. You could for example sew T-shirt and sweatshirts from it. Roughened woven fabric like sweat fabric is suitable for winter tops and bottoms. But also for sewing projects like jogging suits, jersey shorts or other loungewear, organic jersey is a great choice. For summer, French terry, also called summer sweat, is best for making light skirts and sweatshirts. Ribbed jersey is often used for tops and nightwear. The ribs can be knitted in different sizes and widths.
Other than that, knit fabrics have a wide range of uses. You can create hats, beanies, scarves and gloves . Since the fabric is breathable and provides a very good body climate, especially light jersey is popular for underwear and sportswear. You could also make jersey bedding.
When sewing organic jersey, it is important to use a stitch on the sewing machine that leaves the stretch of the fabric unchanged. This is best achieved by using a zig-zag stitch or an overlock seam. We do not recommend the classic straight stitch, because the fabric looses it's ability to stretch and it can happen that the seam tears when worn later.
Please be aware that the fabric also stretches during sewing. Therefore, it is best to check the thread tension and the pressure of the foot of the sewing machine before starting to sew.
The best sewing needle to use when working with jersey is a special jersey needle.
What is the best way to wash this fabric?
Depending on the material, organic jersey can be washed in the gentle cycle and normal program at 30°C. You should turn the fabric inside out before washing. For roughened jersey, however, it is recommended to leave the fabric right side out. This helps to protect the soft fiber side. If there is less than 10% spandex and the fabric is otherwise made out of cotton or linen (like an organic cotton jersey fabric), you can usually wash your jersey at 60 degrees.
Like all fabrics you should wash organic jersey before processing. This way you will prevent the finished garments from shrinking later on.
We have a bog assortment of high-quality and beautiful organic jersey fabrics in our store. We have manufacturers like Albstoffe, Stoffonkel, Lebenskleidung or Lillestoff in our assortment. They all have great GOTS or kba certified organic fabrics.
90% PDF or Freebooks - immediately available
What is my body shape?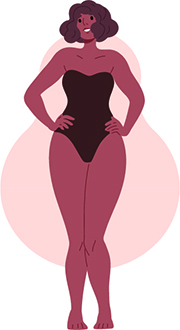 Pear
Narrow shoulders
Slim waist
Strong hips/ thighs
Round bottom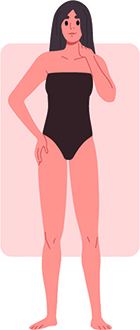 Rectangle
Slim, straight stature
Small bust
Straight waist
Small bottom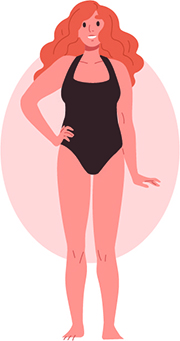 Round
Large bust
Pronounced body center
Strong thighs
Slim legs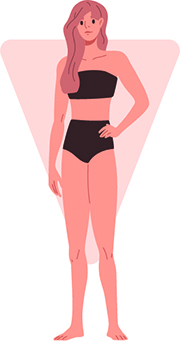 Inverted triangle
Broad shoulders
Medium to large bust
Rather straight waist
Slim legs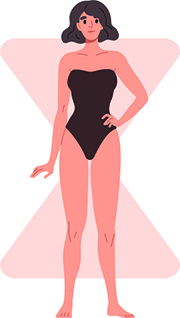 Hourglass
Narrow shoulders
Slim waist
Stong hips/ thighs
Round bottom
Organic Jersey
What is organic jersey?
Organic jersey is a specific type of jersey fabric. First, let's talk about the basics of jersey fabric.
Jersey refers to fabrics made by knitting or warping together one or multiple yarns. Single jersey is knitted from a single yarn. Double jersey made from two or more yarns.
more seen below...
Welcher Körper-Typ bist Du?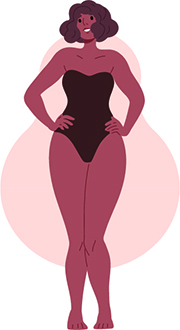 A-Typ - Birne
Schultern schmal
Taille schlank
Hüften/ Oberschenkel kräftig
Po rund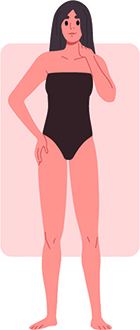 H-Typ - Banane
Statur schlank, gerade
Oberweite klein
Taille gerade
Po klein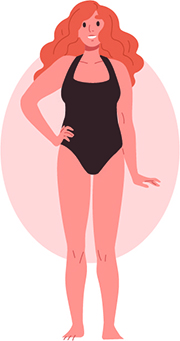 O-Typ - Orange
Oberweite groß
Körpermitte ausgeprägt
Hüften kräftig
Beine schlank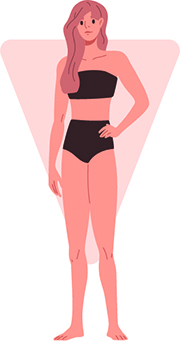 V-Typ - Apfel
Schultern breit
Oberweite mittel bis groß
Taille wenig ausgeprägt
Beine schlank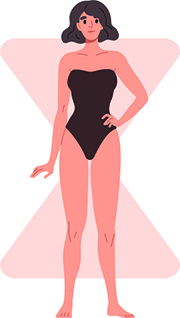 X-Typ - Sanduhr
Schulter + Hüfte ähnlich breit
Oberweite groß
Taille schlank
Po rund
---